Guide:
Your Company's Guide to Talent Acquisition and Retention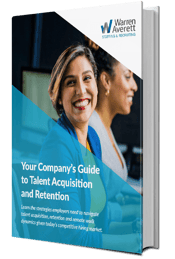 Learn the strategies employers need to navigate talent acquisition, retention and remote work dynamics given today's competitive hiring market.

According to the Labor Department, more than 4.5 million employees resigned in November 2021. This is just the beginning of the phenomenon known as The Great Resignation. In addition to losing good employees, hiring managers are facing challenges with hiring the right candidates for open positions.

Today's hiring environment is very different from what it was even a short time ago. The pandemic accelerated changes that were already in progress, like technological advancements making certain skills obsolete, shifting employee expectations and the progression of remote work. By addressing these trends, you can prepare for unexpected vacancies and put your organization in a competitive position.

To get started, you'll need to optimize your organization's talent acquisition and recruitment practices. But, this requires understanding these different approaches and then creating a long-term strategy to meet current and future employment needs.

Read the guide to learn about staffing and recruiting in today's market, including:
Understanding what's driving change in staffing and recruiting dynamics
Knowing the difference between talent acquisition and recruitment
Improving the efforts of your internal talent acquisition team
Choosing the right talent acquisition specialist or recruiter
Developing an employee retention plan
Overcoming the challenges of managing remote employees
Download this guide today to let us help you manage the staffing and recruitment process and find the right strategy for your organization.