INFORMATION KIT:
WANT TO LEARN MORE ABOUT OPPORTUNITY ZONES?
There are many tax benefits available to help you boost your bottom line, but Opportunity Zones tax benefits are both unique and valuable.
Established in 2017 by Congress in the Tax Cuts and Jobs Act as an innovative approach to spurring economic development, Opportunity Zones potentially allow investors to benefit from capital gain tax incentives through the Opportunity Zone Program. You don't have to live or own property in a Qualified Opportunity Zone to receive tax benefits. In addition, anyone with gains from the sale of stock or property can invest in an Opportunity Zone Fund and potentially receive tax benefits.
To learn more about Opportunity Zones, download our information kit, which includes: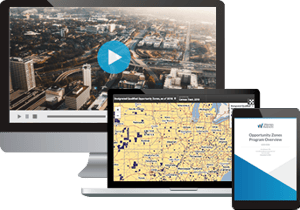 Webinar Recording: What Do the New Opportunity Zone Regulations Mean for You?
White Paper: Opportunity Zones Program Overview
Opportunity Zones Map
Fill out the form to receive your complimentary kit.