CHECKLIST:
How Prepared Are You to Buy or Sell a Business?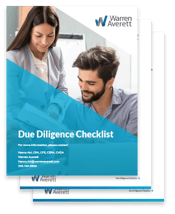 Review our due diligence checklist to see 58 items that could make or break a deal.
Due diligence is more than a legal term. It's what smart companies perform for every deal, whether on the buy or sell side.
Savvy businesses know that the time to perform due diligence is early in the process of a transaction. However, this can mean tracking down a considerable amount of information in order to gain insight and fulfil your obligations. Fortunately, we've had years of experience advising corporations on how best to perform due diligence when buying or selling businesses.
This due diligence checklist reflects the wisdom of our years of advising companies just like yours. We'll walk you through each step of the transaction process, providing a brief description of each item you'll need.
While this checklist may not cover everything a seller will ask for, it breaks down due diligence into 11 important categories that you can't afford to overlook.
Every successful transaction relies on a thorough appraisal and strategy. Our checklist walks you through important considerations, including:
What basic organizational documents will I need to gather or review to buy or sell a business?
How must previous issuances of securities be accounted for?
What material contracts need to be examined?
How does the issue of litigation play into due diligence?
When it comes to management teams and employees, how do I perform due diligence?
Which aspects of the property, plant or equipment must be considered?
What kind of intellectual and proprietary property should be evaluated?
Download the checklist to make sure your deal is airtight with no surprises.