eBook:
DCAA Compliance: A Comprehensive Guide for Government Contractors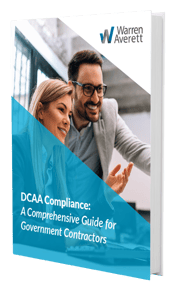 Everything you need to know to prepare for a DCAA audit
Understanding DCAA compliance can be as tedious as putting intricate puzzle pieces together—but it doesn't have to be. We've done the work for you.
To assess the compliance and capability of contract performance, the Defense Contract Audit Agency (DCAA) authority conducts various audits that can occur at any time throughout the duration of a contract.
Will you be ready when that time comes?
With this guide, we've distilled the wisdom and experience of our expert accountants to walk you through the process of preparing for an audit and configuring your accounting systems accordingly. You'll learn about the particular areas of scrutiny, including timekeeping issues, accounting system problems, and documentation failures, that often cause government contractors the most difficulty.
Failed audits carry the potential for significant legal consequences—not to mention devastating business impacts, such as loss of future income, cash flow problems as a result of delayed payment, and fines. With so much at stake, DoD contractors cannot afford a misstep.
Knowing is half the battle. Use this guide to confidently meet the requirements of DCAA compliance and learn more about important points, such as:
Meeting the requirements of the SF 1408 Survey, or Pre-award Audit
How DFARS defines indirect costs
Identifying and allocating your costs correctly
Configuring your accounting system for compliance
Ensuring your Chart of Accounts follows Generally Accepted Accounting Principles (GAAP)
How to allocate time and labor distribution accurately
Make sure your company will meet the challenges of a DCAA audit—download this guide today and let us walk you through the process.